Historical Rarities Collectors of the World – Unite!
Sammler historischer Raritäten aller Länder - vereinigt Euch!
12 MARCH 2016
SPECIAL PRICE $13.99 till APRIL 30, 2016 (reg. price $16.99)
2 DVD set for connoisseurs of the epic film, Alexander Nevsky. On the first disc is the film in its original format, complete with hard-encoded subtitles put on the film in 1938 and the original score in all its monophonic and scratchy glory. On that disc is a companion film, Schastye, described below. The second disc contains the feature film in its restored version with a vastly improved audio track and switchable subtitles.
A true find for Eisenstein films, the two DVDs have been priced almost as if you were buying only one disc! The description below is for the one disc with the original film. The second disc would, of course, have the same description except for the fact that the quality is DIGITAL. It, too, is 108 mins. in length.
SPECIAL PRICE $18.99 till APRIL 30, 2016 (reg. price $23.99)
DAS INDISCHE GRABMAL (1938):
The second, and final, film adaptation of Thea von Harbou's novel: after their daring escape from the jealous Maharaja Chandra and the intrigues of Prince Ramigani, Maharani Sitah and her German lover Sasha make it back to India. In the Palace of Bengal there's a decisive confrontation between the main characters
Zweiter und letzter Teil der Verfilmung von Thea von Harbous Roman: Nach ihrer waghalsigen Flucht vor dem eifersüchtigen Maharadscha Chandra und dem intriganten Prinzen Ramigani gelangen die Maharani Sitah und ihr deutscher Geliebter Sascha zurück nach Indien. Im Palast von Eschnapur kommt es zur entscheidenden Konfrontation zwischen den Hauptakteuren
DER TIGER VON ESCHNAPUR (1938):
This is the first part of the two-part film based on Thea von Harbou's novel, "The Hindu Tomb". At the center of this complex action film is the dramatic love-triad between Chandra, the Maharaja of Bengal, who lives happily with his bride Sitha, and Sasha, a Russian émigré from Germany, who shows up at the palace and who re-ignites a passion started between himself and Sitha in Paris once upon a time. Prince Ramagani, who is secretly planning a coup, uses the opportunity to rile up the Maharaja against Sasha and Sitha. Both flee halfway round the world to Berlin, but are constantly pursued by Chandra, hell bent on revenge.
Erster Teil der zweiteiligen Verfilmung von Thea von Harbous Roman "Das indische Grabmal". Im Mittelpunkt des aufwändigen Abenteuerfilms steht ein dramatisches Liebesdreieck: Chandra, der Maharadscha von Eschnapur, lebt glücklich mit seiner Gemahlin Sitha. Als jedoch Sithas ehemaliger Liebhaber Sascha aus Deutschland im Palast auftaucht, gibt die wiedererwachte Leidenschaft zwischen den beiden Anlass für bösartige Intrigen. Prinz Ramagani, der insgeheim einen Staatstreich plant, nutzt die Gelegenheit, um den Maharadscha gegen Sascha und Sitha aufzubringen. Beide fliehen rund um die Welt bis nach Berlin, ständig verfolgt von Chandra und seinem Gefolge.
SPECIAL PRICE $39.99 till APRIL 30, 2016 (reg. price $56.99)
5 DVD set of the following Rossellini films at a discounted price (see the individual films for screenshots and film samples):
LA NAVE BIANCA (1941):
Durante la seconda guerra mondiale, i marinai imbarcati su una nave da battaglia della Regia Marina Italiana, intrattengono una fitta corrispondenza epistolare con le madrine di guerra. Il marò fuochista Augusto Basso scambia le sue lettere con Elena Fondi, una maestrina di scuola elementare. Elena ha diviso in due pezzi una medaglietta, metà l'ha tenuta lei e metà l'ha inviata ad Augusto. I due si danno appuntamento alla stazione ferroviaria di Taranto, ma quando Augusto sta per sbarcare, la nave salpa improvvisamente per prendere parte ai combattimenti di Punta Stilo e di Capo Teulada. Durante i combattimenti, molti marinai vengono feriti tra cui lo stesso Basso che deve subire un intervento chirurgico. Caricato sull'idrovolante sanitario viene trasferito sulla nave ospedale Arno e affidato alle cure delle Infermiere del Corpo Volontario. Tra queste vi è anche Elena.
During the Second World War, the sailors onboard a battleship of the Royal Italian Navy maintain a regular correspondence with female penpals. The stoker Augusto Basso exchanges his letters with a young woman named Elena, a teacher in an elementary school. Elena has split a medal into two halves, keeping hers and sending one to the young seaman. The two are to meet for the first time at a train station in Taranto; but just as Augusto is to go on leave, the ship suddenly sails off to take part in the naval battles at Calabria and Capo Teulada. During the battle, many sailors are wounded, including Augusto, who must undergo surgery. He is transferred to the hospital ship "Arno" and entrusted to the care of volunteer nurses ... one of whom just happens to be Elena.
UN PILOTA RITORNA (1942):
1941. During the campaign in Greece, Gino, an Italian bomber pilot, is hit by flak and forced to bail. Taken prisoner by the British, he's forced to work in a concentration camp. During a transport of prisoners, Gino meets Anna, the daughter of an Italian doctor assisting imprisoned Italians. He falls in love and his feelings are reciprocated. During a bombing one night, Gino managed to elude the British sentries and steals a plane to fly back to Italy.
L'UOMO DALLA CROCE (1943):
The Russian Front in the Ukraine in the Summer of 1942. A unit of Italian tanks returning from battle receives an order to relocate their base to support an offensive action. The men and machines move according to plan, except for the unit's chaplain, who remains behind to care for a wounded tank gunner, who can't be moved because of his serious injuries. Captured by the Soviets, he manages to escape and find refuge in a cottage, where he's able to spread the word of God among Russian refugees. Dedicated to all those chaplains, "who died bringing God to a land without God", the movie is incredibly almost anti-War and compassionate in its treatment of the enemy. That this film was able to get past fascist censors speaks a great deal about Italian Fascism versus that of their so-called German allies. By the end of the year this film was put out, Italy surrendered.
ROME OPEN CITY (1945):
Made just months after the end of the Second World War in Europe, Rome, Open City tells the story of the brutal German occupation of Italy in the closing days of the War. The film opens with German soldiers searching for Giorgio Manfredi, who eludes them by jumping around roofs. A priest, Don Pietro Pellegrini, helps the resistance transmit messages and money. The Gestapo commander in the city, with the help of the Italian police commissioner, captures Giorgio and the priest, and interrogates Giorgio violently. They attempt to use Pietro's religious beliefs to convince him to betray his cause, citing that he allies himself with atheists. Pietro responds that anyone who strives to help others is on that path of God whether they believe in Him or not. They then force Pietro to watch as Giorgio is tortured to death. When Don Pietro still refuses to crack, he is executed. While adequate, the subtitles don't do much justice to the dialogue and there are scenes where the subtitles are late showing or don't show at all, as if the translator thought the ideas expressed not worth translating.
GERMANY YEAR ZERO (1945):
Deutschland, nach Ende des 2. Weltkriegs. Der 12-jährige Edmund muss für den Unterhalt seiner Familie sorgen. Seine Schwester prostituiert sich, bringt gelegentlich Kohlen, Kartoffeln und Zigaretten mit nach Hause. Der ältere Bruder ist aus der Kriegsgefangenschaft zurück, ohne Essensmarken, und kapselt sich lethargisch von der Welt ab. Der schwer kranke, immer klagende Vater bedeutet eine Last für die ganze Familie.Auf seinen Streifzügen durch die Trümmerfelder trifft Edmund auf seinen ehemaligen Lehrer. Der sagt ihm, Alte und Kranke hätten kein Recht mehr auf Leben, wenn sie den Jungen den Platz und die Nahrung wegnehmen. Beeinflusst von dieser Haltung stiehlt Edmund aus einem Krankenhaus Gift, mit dem er seinen Vater umbringt. Durch seine Tat verwirrt und verzweifelt streunt er zwei Tage durch die Straßen. Als er Zuflucht bei seinem Lehrer sucht, stößt dieser ihn entsetzt von sich. Von Angst und Reue gequält stürzt sich der Junge aus einer Ruine in den Tod.
The story follows a twelve year old boy, Edmund Koeler. Edmund lives with his ailing father and his brother and sister in a bombed out apartment building with five other families. His sister, Eva, is unjustly accused of prostituting herself to Allied officers in Berlin. His brother, Karl-Heinz, has not stepped forward to register with the police, because he is afraid of being punished for being a Nazi. Edmund is mainly left on his own to survive. Edmund deals in the black market and is cheated by older children, who are much more savvy to street life than Edmund, who (at least for a time) manages to salvage some of his childhood innocence. He is eventually corrupted by various forces resulting from the fallout of Nazi rule. Some of the children he hangs out with introduce him to stealing and to casual sex. Mr. Enning (a former school teacher) also corrupts Edmund and profits off selling Nazi artifacts on the blackmarket. He praises Edmund for joining the Hitler Youth when his father tried to get him exempt. In addition, he is harboring a Nazi general. Mr. Enning is also painted as being a homosexual and a pedophile. After visiting Mr. Enning while looking for help, Edmund is told by his former teacher that his father should die because the weak die and the strong survive. Edmund interprets these words in an extreme manner and proceeds to poison his father in order to relieve his suffering and lift the burden placed on his family to take care of the sick man. Afterwards, Edmund is unable to bear the guilt of having done such a thing and throws himself out of a burned building across the street from where his family lives, falling to his death.
TOTAL TIME: 457 MINS. (approx. 7 1/2 hours)
SPECIAL PRICE $39.99 till APRIL 30, 2016 (reg. price $57.99)
5 DVD set of the following films about East Prussia, combined into one multi-disk case to save you money on postage and at a discounted price:
2 DVD SET: INFERNO IN EAST PRUSSIA, 1944 - 1945
With the bombing of Konigsberg by the RAF during two nights in August 1944, the War had finally come to East Prussia. In October of that year, after more than three years of a life-and-death struggle against the Wehrmacht, Soviet forces crossed the borders of the Reich into East Prussia and the Second World War entered into its end stages. But with the invasion of East Prussia by the Soviets, the Germans were, for the first time, to experience on their own soil what they had meted out to the peoples of the USSR for the past 39 months: within a short time of occupying German territory, stories of atrocities against German civilians -- for once not the figment of Goebbels' imagination -- started to circulate like wildfire and refugee columns, this time German, cluttered the roads and ports of East Prussia and Pomerania, trying desperately to flee the onslaught of the Red hordes. This 2 DVD set re-enacts the events in Ostpreussen from mid 1944 until the end of the war almost a year later, using rare films -- including excellent Soviet war newsreels -- interviews, re-enactments, etc. It covers an area of the Second World War rarely discussed in the West and explores the claims of both sides of the conflict with compassion and historical accuracy. For anyone with an interest in East Prussia or the war on the Eastern Front in its later stages, this DVD set is a MUST for you. (Very good quality film with some pixellization. Approx. 200 mins.)
ONCE UPON A TIME IN EAST PRUSSIA
Interviews with former residents of East Prussia are interwoven in this moving account of East Prussia and its inhabitants right before, through and after the end of the Second World War. A very informative film about what life in East Prussia was like in the 30s and 40s. This film is a subtitled replacement for our East Prussia as it Once was. Also included are two newsreels: one about the fall of "Fortress Konigsberg" made by the Soviets; and another from Die Deutsche Wochenschau, made around a month or so earlier. Both also subtitled; neither was included in the former, unsubtitled version of this DVD. (APPROX. 88 MINS. + 16 MINS. OF NEWSREELS. VERY GOOD VHS QUALITY (i.e., some softness, but better than a VHS tape).
EAST PRUSSIA BEFORE THE CATASTROPHE (1930s)
We have sold books aplenty about the lost regions of Germany; especially photobooks, and especially photobooks about the former German East. But wouldn't it be wonderful to see what these regions looked like in film; and especially in films from those periods of time before the areas were placed under the administration of other countries? Well, now we can offer you this wonderful DVD with films showing what the region was like during the interwar period before the bombs fell and the population make-up changed forever. For anyone with relatives from the area; for anyone with an historical interest; for anyone even planning a trip to the region these 70+ years later, these films are a rare treasure, almost never for sale in the U.S. and containing rare glimpses into the Germanic cultures and lifestyles in this part of the world, before the insanity of the Second World War changed it all forever. (VERY GOOD QUALITY. APPROXIMATELY 70 mins).
A JOURNEY THROUGH OLD EAST PRUSSIA
Once part of the greater German Reich, now split between Poland and Russia, East Prussia holds an important place in the history and culture of Germany and the Germans. This video, almost three hours long, shows the viewer what life was like in the region prior to 1945, when it changed forever. As the films for this video come from a number of sources, the quality varies, but it is overall very good. For anyone with an interest in East Prussia, its culture, history and geography, this DVD is certainly for you! (Approx. 178 minutes long)
APPROX. 552 MINS. (MORE THAN 9 HOURS!)
SPECIAL PRICE $36.99 till APRIL 30, 2016 (reg. price $55.99)
Click on the picture to browse detailed contents.

NEW ADDITIONS TO THE STORE
NEUES IM WEBSTORE
FRAUENSCHICKSALE (1952) *with hard-encoded English subtit
While fate may have treated each of the women in this film differently, they all have one thing in common: the search for happiness. And for them, that mainly means finding a life partner. Unfortunately, it is their misfortune to encounter the seducer and bon vivant, Conny. He's good at his trade, for they all feel an attraction for him.. Renate, who hails from a family of civil servants, can't resist him either; and to hold onto him, she'll become a thief and bear a large part of the responsibility for her brother's future death. Even Barbara, a law student, is blinded by his charm. She can see right through his act; and yet, can't seem to let him go. She spent the best years of her youth in a concentration camp and now, the desire to finally find happiness is simply overpowering. Then there's the seamstress Anne. It takes an unexpected pregnancy and Conny's complete and cold disinterest for her to finally wake up and see the kind of man he really is. In fact, the only person who seems to be the right partner for Conny is the Westberliner Isa von Trautwald, a descendent of the nobility, whose cynical outlook on life matches Conny's to a tee. When Renate is finally parolled from prison, she'll find her true happiness at a festive parade of workers in East Berlin. (Hopefully, her newfound joy and happiness will be more genuine than the sham version on display during the worker march down Unter den Linden).
So unterschiedlich die Schicksale der Frauen dieses Films auch sind, sie verbindet eins: die Suche nach Glück. Das heißt für sie vor allem, einen Partner fürs Leben zu finden. Der Verführer und Lebemann Conny, dem sie im geteilten Berlin nacheinander begegnen, ist es nicht. Dennoch fühlen sie sich alle von ihm angezogen. Die aus einer Beamtenfamilie stammende Renate ist ihm verfallen, wird, um ihn zu halten, zur Diebin und schuldig am Tod ihres Bruders. Auch die Jura-Studentin Barbara zieht er in seinen Bann. Sie ist zwar in der Lage, ihn zu durchschauen, aber sich von ihm zu lösen, fällt ihr schwer. Sie hat die besten Jahre ihrer Jugend im KZ verbracht, und die Sehnsucht nach Glück ist übermächtig. Die Näherin Anne ist die nächste. Erst als sie ein Kind von Conny erwartet und er auf die Mitteilung eiskalt und desinteressiert reagiert, erkennt sie ein wahres Wesen. Einzig für die abgetakelte Westberliner Adlige Isa von Trautwald scheint er der passende Partner zu sein. Sie treffen sich in ihrer zynischen Lebenshaltung. Renate indes, aus dem Gefängnis beurlaubt, reiht sich ein in die festliche Parade der Ostberliner Werktätigen.
Visiting a boarding school for girls, married Tsar Alexander II gets to know the defiant Princess Katya Dolgoruky and falls in love with her. He invites her to the court ball at his winter palace, where he dances the first dance with her. To escape the court gossip about their affair --- for their love to one another is no longer a secret --- the Tsar sends his beloved to France to complete her studies. At the World's Fair in Paris in 1869, where the Tsar is to be received by Emperor Napoleon III, the ruler of all the Russias barely escapes being assassinated. Katya witnesses the near-tragedy and the two swear to one another never again to be apart from each other. Alexander takes the girl back to St. Petersburg, where she becomes a lady-in-waiting to Alexander's wife and will later marry him. Again and again, there are attempts on the lives of the couple. The Tsar, however, is attempting to bring justice and freedom to his subjects through a new constitution; but before he can do this, he'll finally be taken down in the next assassination attempt.
Der verheiratete Zar Alexander II. lernt bei der Besichtigung eines Mädcheninternats die aufsässige Prinzessin Katja Dolgoruki kennen und lieben. Er lädt sie auf den Hofball in seinem Winterpalais ein, wo er mit ihr die Eröffnung tanzt. Um dem Gerede am Hof zu entgehen, denn die Liebe zueinander ist kein Geheimnis mehr, schickt er seine Geliebte für eine lange Zeit nach Frankreich. Bei der Pariser Weltausstellung 1869, bei der er von Napoleon III. empfangen wird, entgeht der Zar nur knapp einem Attentat. Katja wird Zeugin davon und sie und Alexander II. versprechen sich, sich nie mehr zu trennen. Er nimmt sie zurück nach St. Petersburg, wo sie zuerst als Hofdame seiner Frau und später an seiner Seite als morganatische Ehefrau lebt. Immer wieder kommt es zu Anschlägen auf das liebende Ehepaar. Der Zar versucht durch eine neue Verfassung, den Bürgern neue Rechte und Freiheiten zu bringen, doch bevor er diese verkünden kann, fällt er einem Attentat zum Opfer und stirbt.
Mysterious things are happening in the Savoy Hotel: During a radio performance of the "Comedian Harmonists" and the clown troupe "The Fratellinis", a mysterious man shows up in the hotel director's office and asks for a job. When the director tells him to take a walk, the man pulls out a pistol and shoots himself. The director leaves his office in panic and looks for help. When he returns a little later with other people, not only is the corpse missing, but the hotel safe has been opened, too. Important documents belonging to the English diplomat Palmer has been stolen. Alfred Brauen, the frantic radio reporter for the Berlin Hour, follows the tracks of the missing dead man and makes an astonishing and unsettling discovery.
Mysteriöse Ereignisse im Savoy Hotel: Während einer Rundfunkübertragung mit den "Comedian Harmonists" und der Clown-Truppe "Die Fratellinis" erscheint ein geheimnisvoller Mann im Büro des Hoteldirektors und bittet um Arbeit. Als dieser das Ersuchen zurückweist, zieht der Mann eine Pistole und erschießt sich. Der Direktor verlässt in Panik sein Büro um Hilfe zu holen. Als er wenig später in Begleitung zurückkehrt, ist nicht nur die Leiche verschwunden, sondern auch der Hotelsafe geöffnet. Wichtige Dokumente des englischen Diplomaten Palmer wurden gestohlen. Alfred Braun, der rasende Rundfunkreporter der Berliner Funkstunde, setzt sich auf die Spur des verschwundenen Toten und macht dabei eine erstaunliche wie beunruhigende Entdeckung.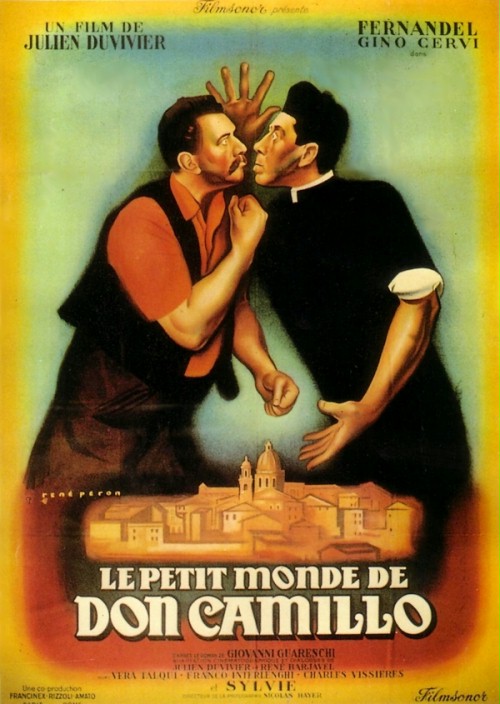 Life in a small country village in the Po Valley would probably unfold quietly were it not for the constant disputes between the town's priest and its communist mayor. The two try their best to obstruct each other, though they're basically the same. Don Camillo, because of his bad temper, frequently has to ask forgiveness from the crucifix in his church. Peppone gives body and soul to build a House of the People, but Don Camillo has no intention of being outdone in his bid to complete the contruction of his oratory.
After his battles with the communist mayor Peppone, Don Camillo is sent into exile to a remote village by the bishop. Peppone thinks he's free to run the village as he pleases, now that the troublesome priest is gone. But when the municipality decides to build a dike against periodic flooding, the proprietor of the land refuses. War between the village clans is about to begin. Maybe only the strong hand of the priest can persuade the landlord to change his mind. Will Peppone forget his pride and send for his enemy?
In the Paradise palace of Emperor Yu Huang, the emperor's youngest daughter, Seventh Fairy, accidentally sees human life. She envies the mortals' freedoms. She notices Dong Yong, a young man, who is going to sell himself into slavery to pay for his father's funeral. Seventh Fairy sees his loyalty and secretly descends to Earth to marry the boy. Knowing what awaits Dong Yong in slavery, she weaves beautiful silks and sells them to buy his freedom. Unfortunately, her disobedience has displeased Emperor Yu Huang immensely. He orders his daughter to return to Paradise Palace and threatens to kill Dong Yong if she fails to obey. Seventh Fairy decides she must leave her husband in order to save his life and reveals her true identity to him. She will return to the palace and the lovers will never see one another again.
Julia Lambert is still a very successful, if no longer young, actress on the London stage. Her director (and husband) Michael is devoted to her, but the marriage has become a bit less exciting. Julia is thinking of seducing Lord Charles Tamerly, a family friend, but then decides against it. Tom Fennel is the tax advisor for the theatre, who has fallen in love with the diva and ends up courting her, which Julia enjoys to no end. Tom's poor and Julia takes him under her wing. But it is precisely this patronizing behavior on the part of Julia that cools the young man's affections and he soon ends up flirting with a younger actress, who's more than happy to take advantage of Tom's desires to further her career. Julia, for her part, isn't about to let herself end up in a tug of war with someone younger than her, so she first jilts the young man to save face and then, at her next premiere, mercilessly shatters the object of her lover's affections on the stage. Much satisfied by her success, she goes incognito to a restaurant to indulge in what is normally an illicit pleasure: a sumptous meal, acknowledged with the words, "What's love compared to a steak with fried potatoes?" She's discovered there by her husband, who not only forgives her affair, but who also leads her back to the path of virtue ... or at least, back to the bosom of her family.
Julia Lambert ist eine immer noch sehr erfolgreiche, wenngleich auch nicht mehr ganz junge Schauspielerin an einem Londoner Theater. Ihr Regisseur und Ehemann Michael ist ihr ergeben, doch ist die Beziehung ein wenig reizlos geworden. Julia erwägt, einen Freund der Familie, Lord Charles Tamerly zu verführen, lässt es dann aber doch sein. Tom Fennel, der junge Steuerberater des Theaters, verliebt sich in die Diva und macht ihr den Hof – und sie lässt sich auf eine Amour fou ein. Tom ist arm und so greift Julia ihm unter die Arme. Doch gerade dieses gönnerhafte Verhalten lässt die Gefühle des jungen Mannes, der übrigens nur wenig älter als Julias Sohn Roger ist, abkühlen und schon bald bändelt er mit einer jungen Schauspielerin des Theaters an, die ihn dazu benutzt, ihre Karriere voranzutreiben. Julia ist nicht bereit, sich von einer Jüngeren vorführen zu lassen, weder auf der Bühne noch in ihrem Liebesleben. So gibt sie ihrem Liebhaber nicht ganz leichten Herzens zuerst den Laufpass, um das Gesicht zu wahren, und auf der Premiere ihres nächsten Stückes spielt sie die Nachwuchsschauspielerin gnadenlos an die Wand. Von diesem Erfolg äußerst befriedigt, geht sie inkognito in ein Restaurant, um sich einem normalerweise unerlaubten Vergnügen hinzugeben, einer üppigen Mahlzeit, die sie mit den Worten quittiert: "Was ist die Liebe gegen ein Beefsteak mit Bratkartoffeln!" Dort wird sie von ihrem Mann entdeckt und angesprochen, der ihr nicht nur ihre Capricen verzeiht, sondern sie auch wieder auf den Pfad der Tugend, oder zumindest in den Schoß der Familie zurückgeleitet.
In Tulio's Song of the Scarlet Flower, a daredevil log ride through the swift currents of a river becomes a metaphoric crossing of the Rubicon for handsome and rakish drifter, Olavi. The brash, coddled son of a well-to-do landowner, Olavi's youth had been spent sowing, then promptly abandoning his proverbial wild oats throughout the countryside: from his first love Annikki, who is quickly cast aside when she rejects his sexual advances, to a girl at the fair, Elli, who, too, is spurned when his parents disapprove of his half-hearted intention to marry her (after being caught together in the servants' quarters), to a dark haired peasant girl, who is left behind when the lumberjacks leave the village at end of the logging season, to the fair haired Pihlajanterttu, whose seduction is vulgarly punctuated with his pre-emptive declaration that she surrender her love to only one other man - her chosen husband - after him. However, the tables are soon turned when the disinherited Olavi, now working as an itinerant lumberjack, falls for the daughter of a prosperous farmer, Kyllikki, against the wishes of her father, and is forced to prove his mettle in order to win her love and, in the process, confront the real and imagined ghosts of his disreputable past.
During the Mexican Revolution, a group of brave peasants, known as the "Lions of San Pablo" join the army of Pancho Villa. After several battles, with more defeats than victories, the original group is reduced to two: Tiburcio Maya and the young "Becerrillo". A smallpox epidemic breaks out among the troops and "Becerrillo" falls ill. Villa orders Tiburcio to kill the young man and burn his body. Disenchanted, Tiburcio abandons the revolution and returns to his village.
Driver's license issued to a 17 year old man in Peine on 18 October 1939. Minor fraying along the edges.
NAZI GERMANY: WHW PROPAGANDA BOOKLET (TAG DER WEHRMACHT - GERHARD KOEPPEN)
The Winterhilfswerk (WHW) was an annual drive by the Nationalsozialistische Volkswohlfahrt (the National Socialist People's Welfare Organization) to help finance its charitable work. Its slogan was "None shall starve nor freeze". It ran from 1933-1945 and was designed to provide food and fuel to Germans. The Hitlerjugend and Bund Deutscher Mädel were extremely active in collecting for this charity. Donors were often given small souvenir gifts of negligible value as a sign of appreciation for their donations. A typical such gift was a very small propaganda booklet about 0.8" wide x 1.5" tall. More generous donors would receive nicer gifts, such as lapel pins on a wide variety of themes. Each individual miniature book, badge, badge set or toy set was only available for two or three days of a particular collection drive. So the populace would be encouraged to donate the following week and thereby collect the latest in the series.
In honor of the Tag der Wehrmacht, the WHW put out a series of booklets in the Winter of 1942-43 with fallen heroes of the Wehrmacht, all Knights Cross Bearers.
Each booklet is 2 3/4" x 2" and have 7 pages with pictures and descriptions.
GERMANY: DRIVER'S LICENSE (LANSER, ALFRED - 1939)
POLAND: SCHOOL ID ISSUED IN LWOW (Krasncki, Wojciech - 1936)
ID issued at III. Panstwowe Gimnazjum Im. Krola St. Batorego in Lwow for the 1936/37 school year. The holder of the card was 12 at the time of its issuance.
NAZI GERMANY: ARBEITSBUCH ISSUED IN BRESLAU, SILESIA (Lindner, Franz - 1940)
SPECIAL PRICE $16.99 till MARCH 31, 2016 (reg. price $23.99)
38-paged, Type II Arbeitsbuch issued on 13 November 1940 to a 51 year old in Breslau, Silesia (now Wrocław, Poland). There are entries and stamps on 6 of the pages.
NAZI GERMANY: WEHRPASS - PENGENBERGER, JOHANN (1940)
SPECIAL PRICE $34.99 till MARCH 31, 2016 (reg. price $62.99)
54-paged military ID issued in 1940 to a 30 year old with entries up to 1944. The ID indicates the holder as being from Nuremberg and working as a mechanic in civilian life. Page 5 indicates his being called up on 11 March 1940 into the Ersatz-Reserve. He was again called up on 11 December 1942. Also included is a Wehrpass-Notiz F, dated 21 July 1944. There are entries and stamps on six of the pages.
NAZI GERMANY: WEHRPASS - LOOSE, KURT (1940)
SPECIAL PRICE $29.99 till MARCH 31, 2016 (reg. price $54.99)
56-paged military ID issued in 1940 to a 40 year old with entries up to 1943, including his calling up to Wehrbezirks-Kommando Berlin IV (Landwehr II) in 1940 and again in March 1943. The cover is well-worn, but the pages are in good condition and quite clean. There are stamps and entries on 5 of the pages.
NAZI GERMANY: DER ADLER NEWSPAPER ("Einer vom Luftwaffen-Spahtrupp" - 21 July 1942)
SPECIAL PRICE $11.99 till MARCH 31, 2016 (reg. price $13.99)
The bi-weekly newsmagazine put out by the German Air Ministry. Minor edge wear and tiny tears. Intact and in very good shape. This issue: page 209 - 220:
· Der Krieg in Sumpf und Steppe
· Luftwaffenbataillone
· Das Flugzeug am Fallschirm
· Flugzeug und U-Boot
· Gegen Englands Nahost-Stellung
· Des Retters letzte Tat
NAZI GERMANY: DER ADLER NEWSPAPER ("Condor kontrolliert das Meer" - 18 August 1942)
SPECIAL PRICE $11.99 till MARCH 31, 2016 (reg. price $13.99)
The bi-weekly newsmagazine put out by the German Air Ministry. Minor edge wear and tiny tears. Complete. Intact and in very good shape. This issue: page 233 - 244:
· Starten-Sturzen-Starten
· Me 109 wirft Bomben
· Kornblumenblau
· Fliegerbildnisse
· Dunkle Plane um den dunklen Erdteil
· Ein Stahlgigant
KENNKARTE #46 - GENERALGOUVERNEMENT - KRAKAU (issued 05 July 1943)
SPECIAL PRICE $26.99 till MARCH 31, 2016 (reg. price $35.99)
Kennkarte issued in the Generalgouvernement to a Pole. The ID card was temporarily used in liberated Poland after the War and thus has the eagle and swastika cut out on the bottom, like many such cards.
This ID card was issued on 05 July 1943 and was valid until 05 July 1948. The ID holder was a 45 year old man as of the date of issue.
KENNKARTE #76 - SCHUTZANGEHORIGE BROMBERG (issued 17 August 1944)
SPECIAL PRICE $24.99 till MARCH 31, 2016 (reg. price $34.99)
Kennkarte (Deutsches Reich) issued to a Pole with the remark, "Schutzangehörige (eingegl. Ostgebiete)", which indicated the holder was not a German national, but a "foreign" resident of the annexed Eastern Territories, which was the name given to that part of Poland incorporated into the Reich after the end of the Polish Campaign in 1939. Such ID holders were considered "probationary" residents, whose privileges could be withdrawn at any time, if their behavior was not considered acceptable to Reich authorities. In such cases, the revocation of the status usually led to expulsion into the Generalgouvernement, the "reservoir" remnant of the Polish nation under German jurisdiction or deportation into a concentration camp in extreme cases.
This ID card was issued on 17 August 1944 and was valid until 16 August 1949. The ID holder was a 31 year old man as of the date of issue.
PROTEKTORAT BOHMEN UND MAHREN: ARBEITSBUCH (Plzen - 20 October 1941)
SPECIAL PRICE $14.99 till MARCH 31, 2016 (reg. price $19.99)
Arbeitsbuch issued on 20 October 1941 to a 34 year old man. Of the 16 pages in the book, there are entries on 9 of them. Cover has small spine tears at the top and bottom of the book, but is attached.
AUSTRIA: IDENTITY CARD ISSUED IN OCCUPIED AMSTETTEN (KERNSTOCK, ELISABETH - 1946)
SPECIAL PRICE $9.99 till MARCH 31, 2016 (reg. price $15.99)
Identity card issued in occupied Amstetten on 03 September 1946. Like Germany, Austria was divided among the four occupying authorities. Amstetten, part of Lower Austria, was under Russian occupation until 1955. The statistics of the card's holder had to be filled out four times, identically in German, French, English and Russian. Thus, the document consisted of 6 pages (the first two of which are shown here). The holder of this document was 64 at the time of its issuance.
USSR: MILITARY ID (Kuznetsov - 1968)
SPECIAL PRICE $9.99 till MARCH 31, 2016 (reg. price $13.99)
Military ID issued to a 32 year old in Moscow. 36 paged document has stamps and entries on 13 of the pages. The military rank of the ID holder is first lieutenant.
HISTORY OF THE SECOND WORLD WAR - PART 41 (1973) (OPERATION TORCH)
Distributed over more than a 2-year period in the 1970s, each issue contained specific topics concerning the Second World War. Each issue has 28 pages. The page numbers for this issue and its main topics are:
· Operation Torch
· The Follw-up to Torch
· Afrika Korps Escapes
Thank you and the best to all of you,
RAREFILMSANDMORE.COM